Implement navigation is a visual perception system through the rows of crops are recognized and generated in the system to guide the line, through the electro-hydraulic control of the sliding connection frame, absolute precision to guide the real-time dynamic adjustment of implements and tractor connection position to achieve the same trajectory of the implements and tractors, or so that the implements can be with the path of the seedling belt changes and changes.
Compact and lightweight design
Built-in light source visual camera
Stable electro-hydraulic control.
Support for nighttime operations.
System Components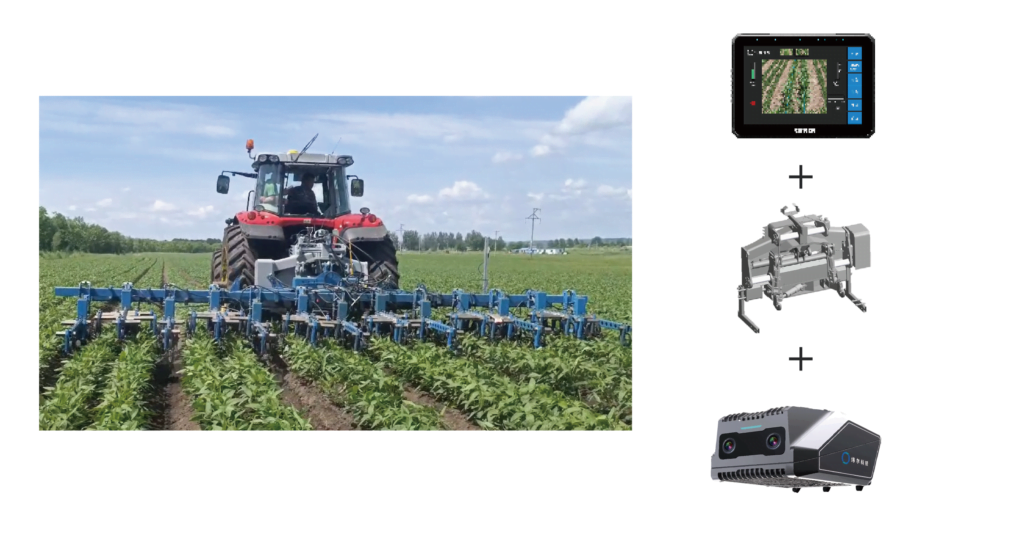 System Features
Compact and lightweight design for stability
Optional integrated vision camera with built-in lighting for nighttime operations
Simple system interface for user-friendly operation and easy equipment attachment
Swap equipment easily for maximum flexibility
Very efficient with low power needs and lightweight rear axles
Versatile application in various scenarios with diverse uses
Smooth motion achieved through proportional valves
Comprehensive protection for electronic and hydraulic components
Stable system with precise and linear smooth electro-hydraulic control
Quickly adjustable track width to meet various needs
Central lubrication rail for easy maintenance
Durable with chrome-plated shafts for gear shifting
Multiple accessory options, including various types of stabilizing wheels
Multiple sizes of electro-hydraulic control sliding frames available
application scenario